With travel restrictions and delays, road trips are becoming more popular. The beautiful thing about road trips is that you control your own pace and schedule. You don't have to deal with any of the travel delays any more! If you're in Toronto, there are plenty of spots to check out with relatively short drives. As a matter of act, you do not even have to go outside of the province. Ontario itself has so many great places. Tobermory is definitely one of the top road trip destinations. Tobermory is located in the Bruce Peninsula in the province of Ontario. It's the perfect place visit during the summer with your significant other, friends, or family.
What you need to know for a Tobermory road trip?
Getting to Tobermory is about a 3-hour drive from Toronto without traffic. It is a good idea to take short breaks for your drive as long drives can be tiring. The scenery in Tobermory is truly majestic. Before you begin planning your road trip be sure to check the road and weather conditions. It is also a good idea to bring some snacks or fruits for your trip. Lastly, don't forget to bring some mosquitoes anti-spray as they may be around depending on when you go!
We went to Tobermory in June during weekday. It was not as busy but we heard from locals that weekends can get really busy for some of the parks and hiking spots. This is something to consider when you plan you your trip. Overall, the timing was good as it was not too hot or too cold. If you go early in spring might get too cold. The drive itself was relatively straightforward. You will pass by places like the famous Sauble Beach!
In terms of navigation be sure to bring your phone charger since that GPS sucks out a lot of battery. By the time you get there, you hardly have any batteries and can't take any photos or videos! The other thing that always brings you a peace of mind during long-travel is CAA for your car. Just in case anything happens to your car, they are a life saver. This can be a battery boost, or fixing a flat tire. This is something to keep in mind as you plan your road trip.
Here are the top things to do in Tobermory:
1. Go to the Visitor Centre – Bruce Peninsula National Park
This should be your starting point if you're looking to check out the guide. You can go inside the visitor centre to get some information about the area! Including maps, cruises info, and current updated info for tourists. Many of the places require advance booking so be sure to check out our list so things go according to your plan.
The Burnt Point Loop trail is just behind the information centre, and the lookout point has a beautiful view. If you arrive there around noonish and looking for a picnic spot, this one is recommended.
2. Visit Lighthouse Point Public Access 
This was the second stop we went to see the water! This is a free spot but have to pay for parking. You can see the scenery in the picture below. You need park your car and purchase a parking ticket. The water is so crystal clear and the air is so fresh. This is a good spot to chill before you venture out on more hiking spots.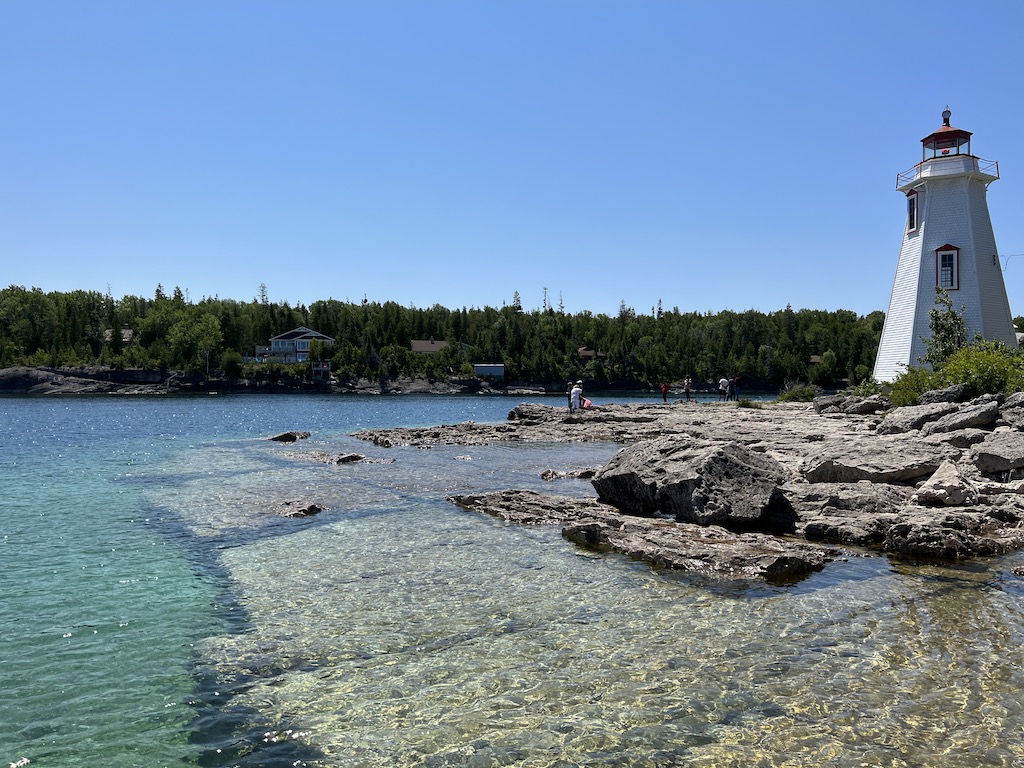 3. Go to Little Cove Provincial Park 
This spot a gem one. It is also has a paid parking. You need to purchase the ticket online as they check it thoroughly to see if your parking license has the ticket or not. If you're going on the weekend, this spot can be packed.
This a good spot to take a picnic and spend some time near the water. You can sit by the rocks, eat something and chill. All you want to do at this spot is breath!
4. Check out the The Grotto, Bruce Peninsula National Park
This is the spot that you need to book in advance to pay the ticket either online or by phone. The spots are usually booked so be sure to plan ahead so you can visit the Grotto. The Grotto does have gates when you go with a car so you need to book and pay in advance before going there!
The Grotto has several hiking routes and spots according to the map. We wanted to go see the caves and the whole scenery. The easiest hiking route itself was about 45 minutes to get to the Grotto. The green trail is the easy one, the blue trail is the moderate one, and the black trail is the difficult one. You really needs to pay attention to the map as you can completely miss it! It's a hidden gem but the scenery is incredible. It's probably the best you will ever see. Some people go inside the water to swim, while others chill by the rocks.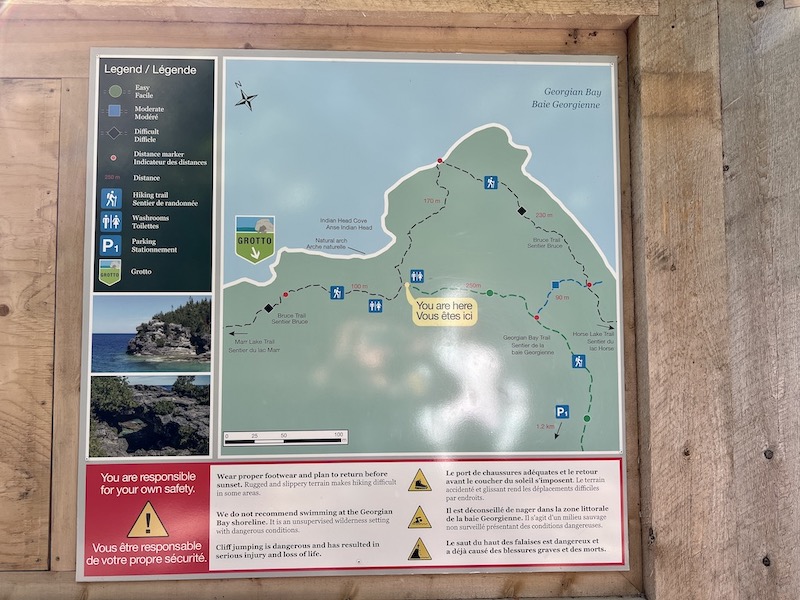 Once you arrive at Indian Head Cove, you go further left to see the caves! The caves are hidden and it is very easy to miss them. Follow the signs or ask if you get lost. Check out the views below to get a complete look at the caves!
5. Check out the Indian Head Cove at The Grotto in Tobermory
You will reach the Indian Head Cove first before you see the Grotto. You cannot miss this spot. Many people are chilling there. The water is beautiful, from clear white to teal to blue. the scenery is amazing!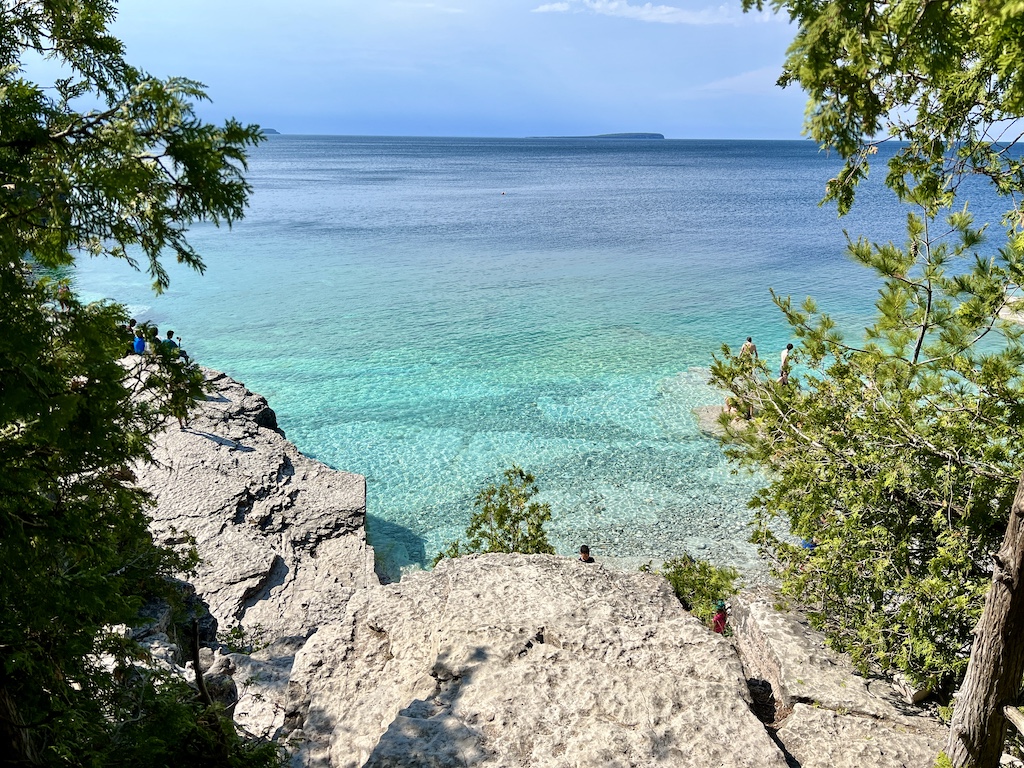 Tips:
Be sure to wear to proper hiking shoes. There is a lot of walk.
Bring extra water with you, just in case.
Cellphone coverage may not be available in certain areas, parks, or spots.
Hike during daylight, make sure you plan the trip, and can get back to your vehicle before dark.
The ticket/parking booking normally is within a 4 hour window. For example, you can book from 10am to 2pm, or 1pm to 5pm. And this needs to be book ahead of time, otherwise, you may not get in.
If you want to check out the flower pot island, a 2-3 days trip is recommended. There are hiking trails on the island, and may take more than half day just to check out the island.
There is a small pizza vending machine on the way there, if you would like to stop and try.
Are you planning any road trips this summer? Let us know. If you enjoyed this article, you will love our newsletter as we bring you the best travel guides and cooking tips!
For more Things to Do in Ontario, please see here.