If you're looking to do a day trip just outside Toronto, Blue Mountain is a great local destination. The drive is about one hour and half from Toronto. If you're coming from west of GTA you can take the highway 410 and go all the way up to North. It's approximately 150 KM. You will pass by Brampton, Orangeville, and Shelbourne. Blue Mountain is located near Collingwood. Here are top things you can do:
1. Visit the Blue Mountain Village
This is the first stop you can do, while you arrive. The village is located at the bottom of the mountain, next to the ski trails. Blue Mountain has small little village with many stores, restaurants, shops, and ice cream places. This also has large space with free parking. I went there on the weekend and there was live music too! You can go up the mountain as well.
In the centre of the village there is Mill Pond with water activity to check out. If you want to stay at the village there are many resorts there but be sure to book in advance as it gets busy!
2. Go the Scenic Caves
This is truly a majestic spot. You need buy tickets for this spot before 4 PM. Bring your hiking shoes for this spot as it has a nice trail with a suspension bridge. The cave might close for winter season, make sure you get the updated info from their website before you go.
3. Go for the Actives at Blue Mountain
In winter time of course you can do skiing and tobogganing. You can take a ride at Blue Mountain Silver Bullet to see the views in the area. There's also the Ridge Runner Mountain coster which is very fun! There are plenty of spots for rope climbing such as Timber Challenge High Ropes, Canopy Climb Net Adventure, and Woodlot Low Ropes.
For water activities there's Plunge Aquatic Centre with outdoor and indoor section.
4. Go to Wasaga Beach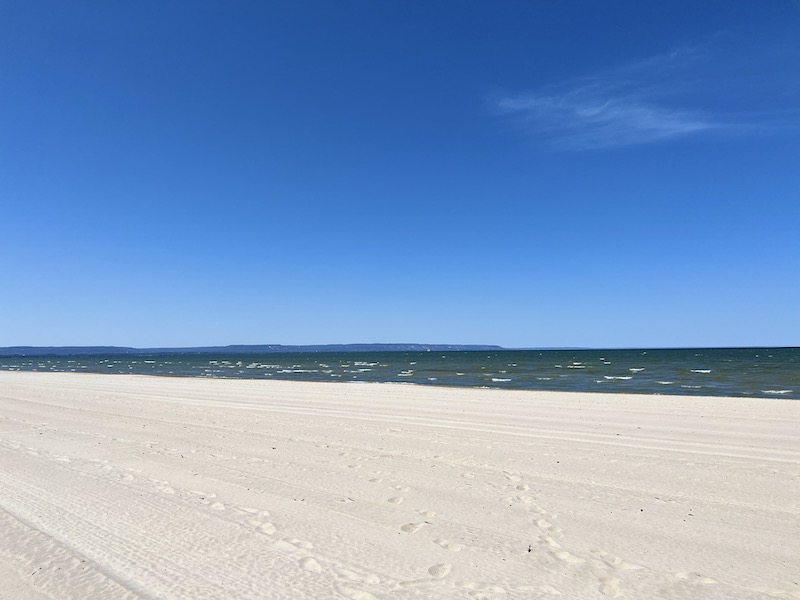 There are so many gem spots near Blue Mountain and Collingwood . Of course the most famous being Wasaga beach but there are also Northwinds Beach, Sunset Point Beach, and Millennium Overlook Park. In the Millennium Overlook Park, there was a wedding! This is a great spot to get married.
5. Check out the Lighthouse Point Share
This is a private club with a gorgeous view from the lake! Check out their website before you go.
6. Go for Hiking Trails
There are plenty of hiking trails near Blue Mountain. There's Village Way Trail, Bryce Trail Lookout, and Craigleith Provincial Park.
7. Play Tennis at the Public Course
Bluemountain has some great tennis courts to play. If you're going there in the summer take your tennis racquets with you. The courts are free to play unless you need to book in advance which there's no need for that. In terms courts there are Bayview Tennis Court, Boyer Tennis Courts, and Nipissing Ridge Tennis Court. You can check out the details on Blue Mountain official sites here.
Are you planning to go to Blue Mountain? Let me know in the comment below!