As previously mentioned in the post of How to Make Chinese Dumplings from Scratch, the best way to make crispy authentic pan fried dumplings is to use left over hand made dumplings. Pan fry every side of the dumpling and make it super crispy! It is crunchy outside and juicy inside. Perfect for breakfast.
Can you cook dumplings in a pan?
Yes. You can do steam fry or pan fry.
To steam fry, heat the pan with slightly graced oil, and lay the frozen dumplings or the uncooked dumplings in the pan, fry 2-3 mins in medium high heat, then pour 1/3 cup of water and flour mixture. Cover with a lid, and let it steam for 2-3 mins. Ready to serve.
To pan fry, use the cooked cold dumplings, the left over dumplings are the best ones. Heat the pan with oil in medium high, and lay the leftover dumplings or the cooked dumplings in the pan, fry each side for 2-3 mins till al sides are golden and crispy. This is the best way to make pan fried dumplings.
What is the difference between pan fried dumplings and gyoza?
The pan fried dumplings are more Chinese style, and gyoza is more Japanese or Korean Style for frying dumplings in a pan. Dumplings are called Jiaozi in Chinese.
What is the best way to cook dumplings?
For a lighter taste and a tender texture, boiled dumplings are the best. If you prefer less watery, steamed dumplings are defiantly the choice. If you are a crispy lover, the panfried dumpling is absolute the best choice. For me personally, I prefer to boil the hand made dumplings for dinner, and pan fry the left over dumplings for breakfast the next morning. This is the new year treat, the best ever!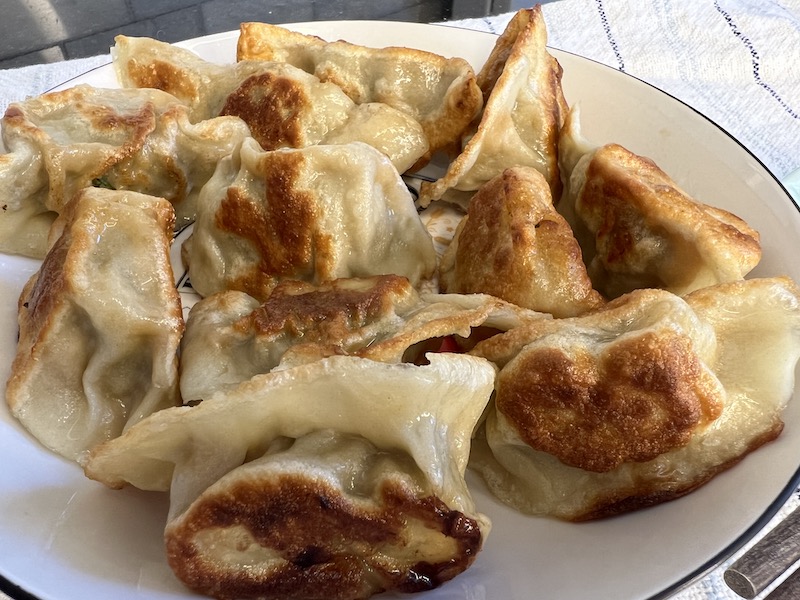 Prep Time: 5 mins
Cooking Time: 8 mins
Total Time: 13 mins
Ingredients: 
10-12 left over dumplings
2 tbsp oil
2 tbsp rice vinegar
Instruction:
Heat the oil in a pan on medium high heat
Once the oil is heated, lay all the dumplings in the pan
Fry each side fr 2-3 mins till all sides are golden crispy
Place the vinegar in a dipping plate
Ready to serve
Enjoy!
Tips:
Left over dumplings can be sticky, slowly separate them apart, then lay them in the pan by half an inch apart.
Do not use the dumplings if the wrapper is already breaks. This is to avoid oil splash while cooking.
let the dumplings fry a bit till one side is golden crispy, then flip them over. Try flip as less as possible to avoid the dumping wrapper breaks.
Use some LaBa Garlic vinegar as dipping sauce to bring the garlic flavor for garlic lovers.
If you like the post, please signup our weekly newsletter.
Ingredients
10-12 left over dumplings
2 tbsp oil
2 tbsp rice vinegar
Instructions
Heat the oil in a pan on medium high heat


This is authentic pan fried dumplings

Once the oil is heated, lay all the dumplings in the pan
Fry each side fr 2-3 mins till all sides are golden crispy
Place the vinegar in a dipping plate
Ready to serve